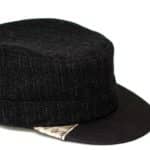 What's my head size?
We do not bellieve in one-size fits all. We offer all sizes of headgear and recommend you take relevant measurements before your online purchase. Or better yet, visit our hats & caps shop in Copenhagen or Bornholm. A guide to get a good meassure of your head is available here.
Do not hesitate to contact us if you have any questions about head dimensions or cap sizes.
What sizes does Wilgart offer?
We measure according to European standards with cap size measured in cm. Our flatcaps are offered in dimensions from 53cm to 65cm. That is, we have sixpence and baseball caps in size 53cm, 54cm, 55cm, 56cm, 57cm, 58cm, 59cm, 60cm, 61cm, 62cm, 63cm, 64cm, 65cm, 66cm, 67cm, and individual up to 68cm. Other of our headwear is offered with an adjustable leather strap or hook and loop tape, but even those are sized in XS, S, M, L, XL & XXL. Because we don't make One-size caps.
You can be sure to always find a properly sized cap at your local cap maker and hatshop Wilgart.
Be sure to measure your head before buying online. Take the head meassurement 2-3 times and use the biggest number you got from those measurements. How can I measure my head?
How do I wash my cap?
Read all about materials and see the videos about caretaking for all Wilgarts Headgear.
Learn some tricks go to Cap maintenance
Where do I find headgear accessories?
Good tools such as brushes, leather grease or cap and hat hangers are found under Wilgart's cap accessories
Learn all tricks about washing flatcap, basecaps or tweed caps in our sectionCap maintenance
Sales channels
Wilgart has its own hat shop and cap shop on Jægersborggade in Copenhagen. In addition, we have a workshop sale for caps (open only in summer) in Soldalen on Bornholm.
Webshop: Not all our products are sold online on this site, in the physical stores the selection is most often larger. Many of our caps are made as unique caps, and thus are not pictured or sold online.
A limited selection of Wilgart products is available through our resellers.
Tailored cap
You are able to choose your own fabric, size of the shade, as well as make changes to the design of a bespoke cap.
However, we cannot sew caps to order where we do not already have a cut/skablon/pattern of the model. For example, we won't copy your existing cap unless we have a pattern that looks similar and is already in our collection of incisions.
Custom made caps can be ordered in our own stores in Jægersborggade, Copenhagen or Soldalen, Bornholm.
We can help you find a cap for any head size, even if you have special requirements for your headgear. A cap made-on-demand is also a great gift for those who want to give something very special and special.
Delivery to Denmark
Danish orders will be delivered within 1-4 days from the day you received your shipping confirmation. Deliverytime depends on the shipping method selected at checkout. Deliver to your home, workplace or parcel shop. You get a track &trace number from the carrier. DAO, PostNord, or GLS. They will send you an SMS or email when the package is on its way.
Delivery time to the EU
International orders will be delivered within 4-10 days from the day you received your shipping confirmation. You get a tracking number so you can follow the delivery.
Delivery Time World
The delivery time depends on the country selected for delivery. International orders are delivered 3-12 days after the day you received your shipping confirmation. Through package number, you can follow the shipment.
You are responsible for paying local taxes such as customs duties or handling fees on deliveries outside the EU.
Internship at Wilgart?
You have a chance to get an internship or maybe even apprenticeship at Wilgart. If you are lucky and skilled in your field. The first step is to talk to us. Then we'll take it from there.
You can always write us an email with portfolio attached, with a description of how you would like to be involved in Wilgart – Handcrafted Danish Headwear. We look forward to meeting you!
See current positions under People
How can I work with Wilgart?
As a starting point, Wilgart is not interested in producing products that do not get our label or name written in them. Which means we don't do white-label production for others.
That said, we want to work with other brands and individuals. If we find your proposal relevant and can agree on a joint project, we would like to hear from you.
See previous projects under People