By Silas Skram, CEO & founder
In mid-2010, I found myself with no foothold and no viable path on the life journey. In the search for a meaningful education. In constant search of a sustainable housing situation in Copenhagen! A struggle for permanent residence many young people are repeatedly plunged into, lowered with repeated defeats, my knees and my gaze in contempt of the housing market and rent prices. My spirit of luck was satiated with days, and I decided to go away for a while. What started as rootlessness would later prove to be my educational rite of passage.
Silas Skram
Cuts out to a baseball cap in woolen fabric. Copenhagen, Denmark
Hitchhicking with my skateboard and a list of acquaintances in Germany, I went along the motorways. Leberwurst, Käsebrot and family I never knew were now a viable, however uncertain and thrilling, way of life. After visiting many lovely places, it was during my stay with acquaintances in Jena that something new caught my attention.
I had shopped around in a hat shop for over an hour on a small street downtown. The atmosphere smelled of craftsmanship and striking quality. I finally asked a nowadays unusual question: "Is there anyone who still produces some of these great caps here near Germany?" With the assumption that all European textile production was discontinued in favor of an order list to Asia, the lady came up with an answer that surprised me: "Yes," she said. In a nearby town was a company called Bullani Mützen, which still produced everything from scratch. She gave me a phone number. Hmmm.
The next day I packed my stuff and went off. Now it was time for another adventure and my journey around had become a mission. I had to learn everything about hats. Halfway on my only 100 km. journey to Bamberg I was dropped off at a gas station, where I could make a phone call. "Jaaah? Hmmm. " Said a friendly lady with a hesitant voice over the phone. I was free to come by and see the workshop, but it was just a small company with only 6-7 employees. It was exactly what I wanted, she did not quite understand. Fortunately I was free to explain it on my arrival. The factory and shop sales were in Augustenstraβe 10, Bamberg.
Off on horseback it went. Four rolling wheels, and a brezel with salt (Bavarian prime baker art from southern Germany). I forced myself forward!
When I entered the door of Mr. and Mrs. Bullmanns factory, a strong stocky man with a fixed gaze and 12-inch stainless steel scissors at hand came swinging through the door. There had to be taken care of things was the attitude. He marched right past me and into another room, where I could catch a glimpse of a band saw at full tilt. "Wir haben besuch" he mentioned in passing. Meaning 'visitors here'. I waited right there. "Grussgott" a lady came out of another door, and looked at my skateboard, my backpack and my windblown hair.
"Ha-hello" I said? "I am Silas Gärtner. We briefly spoke on the phone before" I said, and tried to seem more confident. Luckily, she smiled: "Very well, Herr Gärtner, and what exactly do you want. I understand you want to learn how to make hats?"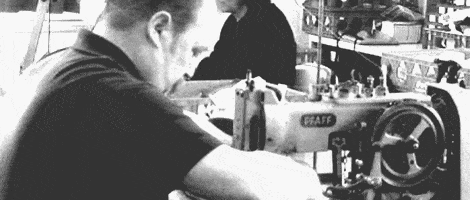 Master Herr Bullmann's capmaking
Classic sixpence production in the workshop. Bamberg, southern Germany 2011.
I explained that it was just what I wanted: I wanted to learn how to make hats. We talked a while about my trip, my skills and experience with sewing machines. I told that threading a needle was not unknown to me. Besides, I was adept with most other tools, but I had never worked on industrial sewing machines. Mr. and Mrs. Bullmann listened.
Mr Bullmann said: "Yes, that's very fine. But if you want to learn how to make caps, then you're not going to learn it in a month, or six months. It takes years!"
I announced I was a quick learner. If only I could learn to sew a basecap, I would be happy. But Mr. Bullmann looked skeptical at me and said: "You might get a taste of the periphery of true craftsmanship, but sewing caps takes years my friend." We talked back and forth about what could be able to reach and how. Finally he said: "Fine. If you need to learn here, you have to buy me a little time off to teach you. You have to work for me part of the day, so I move along with production. In the afternoon I can put aside some learning time for you. A normal work week starts at 8:00 and ends 16:30, you can stay at my house if you want, and you can start on Monday!" The probationary period was one month, and I could give my final answer whether I wanted to start, after having some thoughts first. He gave me a Bullani Mützen cap, an Alpaca and wool blend with a beautiful leather bill. The story of my journey had amused Mr. Bullmann to such an extent that he thought I deserved a real cap, no matter what I decided. We took our parting and I trudged out into the street again.
Just one hour later I called and signed up. I was now going to work as a cap-making boy at Herr Bullmann's capmaking workshop.
Mr. Bullmann was factory-owner of the old type. There had to be productivity and the wheels had to keep turning. He was a skilled tailor specializing in headgear and things had to be created perfectly or "Pico bello" as he often said.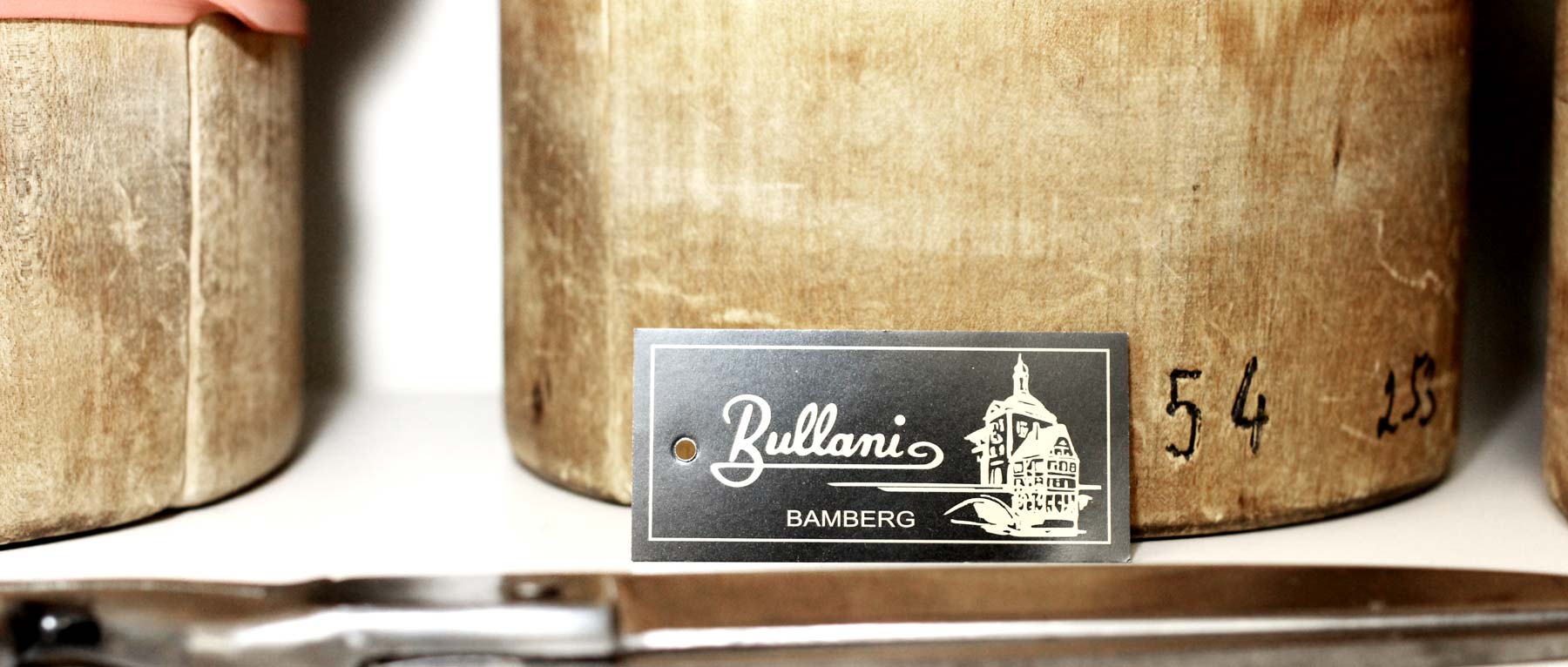 That weekend, I stayed with some friends of my parents, who back in the days studied in Bamberg. Over the weekend I attended a backyard party in a huge young cohabitation in the heart of the city. As it later turned out, the hatter's daughter also lived in the house with her boyfriend and eight other students. I was offered to move into their guest room, and my unofficial training period began. Monday morning: Stacks of caps to be ironed, beaten with a piece of wood and then ironed again. And then it went on with a new one. The day was long, the steam iron misted my glasses, and the summer sun shone outside the factory windows. I worked hard and consistent.
In the afternoons I sniffed around and formed impressions from the workshop and its 5 employees.
Early Tuesday morning. The program was repeated. I was 'allowed' to stand by the steam iron for hours. Later also got a lesson in sewing on industrial sewing machine. I had to learn how to cut and sew up lining for caps to the production. On the third day, I was allowed to search out a fabric from the stock, to become material for my first cap. And the very same day, my first cap was done. Mr Bullmann posted a disgruntled face. The quality and processing had of course not yet, reached his level, and the patterns were completely mess, skewed over each other. Furthermore the brim was set 1 mm. too far to the left, and that was reprehensible. He said I had better throw the cap in the bin. I was like, hmm, this went well. I just wanted to bring my first cap home so I could show it to someone. After some talk, I was allowed to do so. Because, as Mr. Bullmann said, it was kind of funny now that it was the first. But never show it to anyone he said, because then others would see how little training I'd had. In trying to sew number two, I had to repeatedly start over.
When I showed Mr. Bullmann the result, and he tore up the stitching and said: "All over again, that's not good enough." I pushed my limits, the next should be perfect.
The following four days Mr. Bullmann was out of town. He was on tour showing his winter collection to all traders in the north and northwest of Germany. I was therefore left with no teacher, and stood early every morning with the steam iron and the wooden bar knocking seamstresses flat. Mr. Bullmann's production came well ahead of schedule, so I thought. In the afternoon I had free reign. I began attempts of creating new shapes and designs of my own. When Mr. Bullmann returned there was once again a critical eye and a good mentor in the studio.
The work became a bit more loose the following weeks. I was given more time to perform my own interests and Bullmann commented on my work with occasional optimism, even if the craft could be better. I often had to unpick stitching and sew them up again. This honest criticism kept up the pace and every afternoon I came home with 1-2 new crafted caps, and showed the community my days work. My roomates found it entertaining to follow the development of the apprenticeship. I often prepared huge meals for the vegans and vegetarians and fishietarians in my new temporary home. On weekends we had trips to the forest, held celebrations, and went out enjoying the city. It was an amazing time.
Slowly day by day, I built my collection. All caps should be in size 59 cm, my own, and they all got a numbered label. The first collection contained 21 pieces most of which are worn by myself. The collection has a great sentimental value although there are many mistakes and unusual experiments with shapes and materials.


After 4 weeks of work and practice, I heard of Deutsche Bahn Railway Germany celebrating 20 years of united Germany with selling cheap train tickets. Some of my friends in Jena planned to take to Lake Garda on holiday. So I thanked Mr. Bullmann for the stay and my new teachings, and took my leave of Bullani Mützen for the time. A few weeks later I was back in Denmark and enrolled to begin at the Copenhagen School of Design and Technology KEA with specialty in Accessories Design, with a very specific type of accessories in mind…
Two years later I took a professional internship from January to March through training at the school, it had become clear that caps had a driving force in me. During this process, the work was much more intensive and I was allowed to work independently with capmaking much of the time. After I had produced 18.5 kg. Caps that I had to send home in a huge box, this was the starting gun and I opened cap company SIGAR Hats in 2013 which then later in 2018 changed its name to Wilgart – Handmade Danish Headgear.
For the first few years I crafted the caps in Copenhagen's Northwest neighborhood, in a small basement worhsop with no windows to the outside world. But in 2018 I got the chance to move the cap workshop to Jægerborggade where it became a regular hat shop and capmaking workshop. In Jægersborggade I opened our cap and hat shop, and already the following year we created a small productionline on Bornholm.
I have maintained a close relationship with Bullani Mützen in Bamberg. Mr. Bullmann produces the classic Herrensportmütze, with a most loving hand and to the very highest quality. The classic handmade flatcaps sewn by my teacher, Mr. Bullmann, is now sold in the shop, along with my own things. Wilgart likes true craftsmanship in all aspects of headgear.
With this founding story in mind Wilgart will continuesly create and sell handmade personal caps from Copenhagen, Bornholm and from my master's workshop in southern Germany. If you want to know more about the story or talk to me, please see our contact information, or drop by at the workshop, the only cap-making workshop in the country. We look forward to meeting you!
Wilgart – The last cap maker in Denmark.