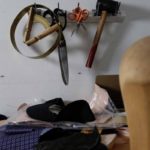 Who we are
We are independent cap makers with base in Copenhagen. We make caps from scratch.
The Founder and CEO is called Silas Wilhelm Gärtner Skram.
You can get in contact with us through e-mail, phone or various messenger apps, like whatsapp, facebook, instagram, youtube, vimeo or messenger.
Our website address is: https://wilgart.dk.
What personal data we collect and why we collect it
When you visit our website we collect data through cookies, to analyse the traffic that runs through our site.
This way we can enhance user experience and gain insights about what sections of our sites are working, and what we need to improve.
We use other software to analyse the data, through our providers: Google analytics, Facebook pixel, Unoeuro and Mailchimp.
When you have an account or have made a purchase through our webshop, you are able to opt-in to our newsletter mailing list.
Here we keep track of your adress, headsize, name and email.
When you order a custom personal cap from us, we need to collect personal data to be able to contact you. These usually include e-mail, phone number, name, headsize and shipping adress if we agree to send the finished piece of headwear to you.
The right to be 'forgotten'
We take this basic human right very seriously. And since GDPR individuals for the first time, have the right to be deleted from some other companies databases.
If you want to see the data that we obtained about you, please write to us on a email.
If you want to be forgotten, which means that we delete every piece of information we have about you, please send us an email.
Cookies
Cookies are used by Wilgart in order to improve your experience when browsing and using the website. The cookie identifies your computer and allows the site to remember your personal settings. Wilgart may not operate properly when cookies are disabled in your web browser.
We also use technologies, such as cookies, to customize content and advertising, deliver social media features, and analyze site traffic. We also share information about your use of our site with our trusted social media, advertising and analysis partners such as Google Analytics and Facebook pixel.
If you leave a comment on our site you may opt-in to saving your name, email address and website in cookies. These are for your convenience so that you do not have to fill in your details again when you leave another comment. These cookies will last for one year.
If you have an account and you log in to this site, we will set a temporary cookie to determine if your browser accepts cookies. This cookie contains no personal data and is discarded when you close your browser.
When you log in, we will also set up several cookies to save your login information and your screen display choices. Login cookies last for two days, and screen options cookies last for a year. If you select "Remember Me", your login will persist for two weeks. If you log out of your account, the login cookies will be removed.
If you edit or publish an article, an additional cookie will be saved in your browser. This cookie includes no personal data and simply indicates the post ID of the article you just edited. It expires after 1 day.
Embedded content
These websites may collect data about you, use cookies, embed additional third-party tracking, and monitor your interaction with that embedded content, including tracing your interaction with the embedded content if you have an account and are logged in to that website:
Facebook, Google, Vimeo, Youtube, Soundcloud, Instagram.
How long do we retain your data?
If you leave a comment, the comment and its metadata are retained indefinitely. This is so we can recognize and approve any follow-up comments automatically instead of holding them in a moderation queue.
For users that register on our website (if any), we also store the personal information they provide in their user profile. All users can see, edit, or delete their personal information at any time (except they cannot change their username). Website administrators can also see and edit that information.
Your rights over your data
If you have an account on this site, or have left comments, you can request to receive an exported file of the personal data we hold about you, including any data you have provided to us. You can also request that we erase any personal data we hold about you. This does not include any data we are obliged to keep for administrative, legal, or security purposes.
Data breach procedures
If we should have a data breach, you will be the first to be informed.
Users who are logged into our website, have created a password and therefore it is very important that you react on any messages from us, regarding any data breach.
However please be aware that we do everything within our hands to keep your data safe and stored and secure. This is also the reason we use SSL-encryption and only work together with large serious players in regards of managing your data.
Contact
Our Data Protection Officer is the CEO Silas Skram.
Please contact him, if you have any questions or concerns about your data.
Woocommerce
We run our webshop on Woocommerce.
While you visit our site, we'll track:
Products you've viewed: we'll use this to, for example, show you products you've recently viewed
Location, IP address and browser type: we'll use this for purposes like estimating taxes and shipping
Shipping address: we'll ask you to enter this so we can, for instance, estimate shipping before you place an order, and send you the order!
We'll also use cookies to keep track of cart contents while you're browsing our site.
When you purchase from us, we'll ask you to provide information including your name, billing address, shipping address, email address, phone number, credit card/payment details and optional account information like username and password. We'll use this information for purposes, such as, to:
Send you information about your account and order
Respond to your requests, including refunds and complaints
Process payments and prevent fraud
Set up your account for our store
Comply with any legal obligations we have, such as calculating taxes
Improve our store offerings
Send you marketing messages, if you choose to receive them
If you create an account, we will store your name, address, email and phone number, which will be used to populate the checkout for future orders.
We generally store information about you for as long as we need the information for the purposes for which we collect and use it, and we are not legally required to continue to keep it. For example, we will store order information for 5 years for tax and accounting purposes. This includes your name, email address and billing and shipping addresses.
We will also store comments or reviews, if you choose to leave them.
Please see the Woocommerce Privacy Policy for more details.
STRIPE Payment
We accept payments through STRIPE. When processing payments, some of your data will be passed to STRIPE, including information required to process or support the payment, such as the purchase total and billing information.
Please see the STRIPE's Privacy Policy for more details.
Youtube
Our website uses plugins from YouTube, which is operated by Google. The operator of the pages is YouTube LLC, 901 Cherry Ave., San Bruno, CA 94066, USA.
If you visit one of our pages featuring a YouTube plugin, a connection to the YouTube servers is established. Here the YouTube server is informed about which of our pages you have visited.
If you're logged in to your YouTube account, YouTube allows you to associate your browsing behavior directly with your personal profile. You can prevent this by logging out of your YouTube account.
YouTube is used to help make our website appealing. This constitutes a justified interest pursuant to Art. 6 (1) (f) DSGVO.
Further information about handling user data, can be found in the data protection declaration of YouTube under https://www.google.de/intl/de/policies/privacy.
Vimeo
Our website uses features provided by the Vimeo video portal. This service is provided by Vimeo Inc., 555 West 18th Street, New York, New York 10011, USA.
If you visit one of our pages featuring a Vimeo plugin, a connection to the Vimeo servers is established. Here the Vimeo server is informed about which of our pages you have visited. In addition, Vimeo will receive your IP address. This also applies if you are not logged in to Vimeo when you visit our plugin or do not have a Vimeo account. The information is transmitted to a Vimeo server in the US, where it is stored.
If you are logged in to your Vimeo account, Vimeo allows you to associate your browsing behavior directly with your personal profile. You can prevent this by logging out of your Vimeo account.
For more information on how to handle user data, please refer to the Vimeo Privacy Policy at https://vimeo.com/privacy.
Google Web Fonts
For uniform representation of fonts, this page uses web fonts provided by Google. When you open a page, your browser loads the required web fonts into your browser cache to display texts and fonts correctly.
For this purpose your browser has to establish a direct connection to Google servers. Google thus becomes aware that our web page was accessed via your IP address. The use of Google Web fonts is done in the interest of a uniform and attractive presentation of our plugin. This constitutes a justified interest pursuant to Art. 6 (1) (f) DSGVO.
If your browser does not support web fonts, a standard font is used by your computer.
Further information about handling user data, can be found at https://developers.google.com/fonts/faq and in Google's privacy policy at https://www.google.com/policies/privacy/.
Soundcloud
On our pages, plugins of the SoundCloud social network (SoundCloud Limited, Berners House, 47-48 Berners Street, London W1T 3NF, UK) may be integrated. The SoundCloud plugins can be recognized by the SoundCloud logo on our site.
When you visit our site, a direct connection between your browser and the SoundCloud server is established via the plugin. This enables SoundCloud to receive information that you have visited our site from your IP address. If you click on the "Like" or "Share" buttons while you are logged into your SoundCloud account, you can link the content of our pages to your SoundCloud profile. This means that SoundCloud can associate visits to our pages with your user account. We would like to point out that, as the provider of these pages, we have no knowledge of the content of the data transmitted or how it will be used by SoundCloud. For more information on SoundCloud's privacy policy, please go to https://soundcloud.com/pages/privacy.
If you do not want SoundCloud to associate your visit to our site with your SoundCloud account, please log out of your SoundCloud account.