Hats & caps should be cool
As a backpacker, he fell in love with a fine cap and knocked hopefully on the door of the master behind the work. Since then, Silas Skram got the craftsmanship in his blood, and today Denmark's only cap maker is on a mission to make the popular headgear handmade again.
"When I was 22 years old, I had a hard time finding a place to live in Copenhagen and a hard time figuring out what to do. I hitchhiked through Germany with my skateboard under my arm. At one point, I was in the city of Jena, inside a hat shop somewhere in Bavaria, where I came across a checkered baseball cap with padded lining in a quality I had never seen before. Really beautiful. Bullani was the name of the brand. I asked where it was made and was told that it was made 100 kilometres away in the town of Bamberg by a small family business.
Maybe I could learn to sew one too, I thought. Then I would have gotten something tangible out of the trip. I rushed to the library to borrow a computer and wrote an email to the Bullani factory saying I wanted to visit them and was on my way. The next day I found my way to the backyard where the workshop is located. You could hear the needles going in the sewing machines, the ribbon knife cutting fabric and wooden sticks banging cap pads against wooden blocks.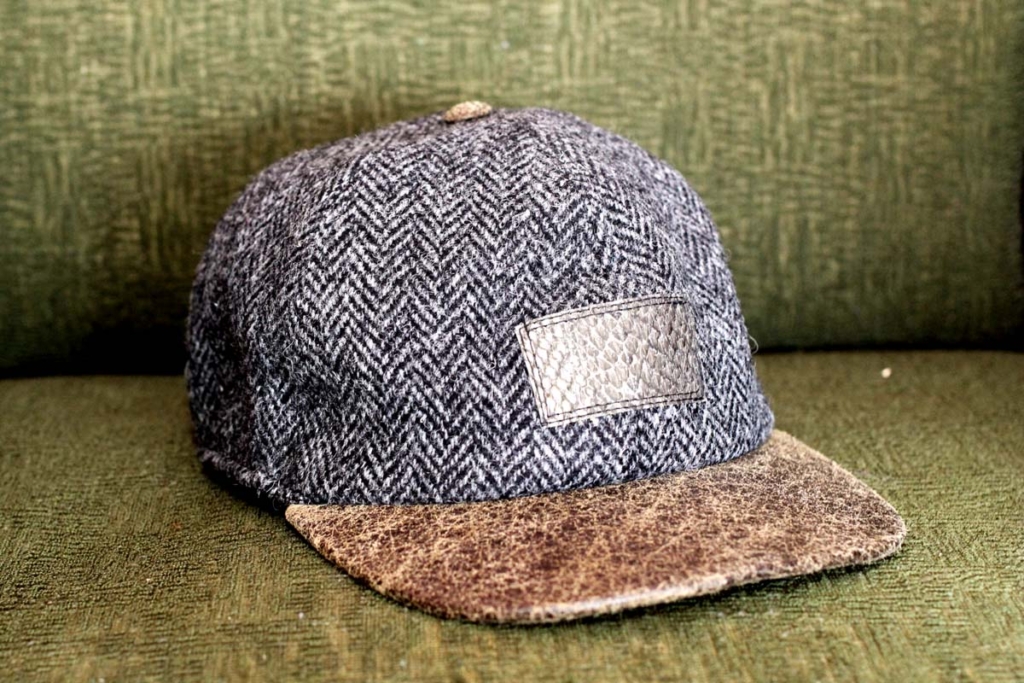 The button on the top and the silver-gray mark on the front are made of salmon skin from Iceland. A small design signature Wilgart often uses.
First meeting with the Master
"Who are you," said Herr Bullman, the master of the company. I stood there with my big backpack and skateboard and told them I wanted to learn how to sew caps. "You're never going to learn that," he said. "What did you imagine?" I tried to talk him into the idea. Told him that I could sew a little, that I could lend a hand and possibly iron the caps for him. We discussed it in length. "I've travelled all the way down through Germany to get to your workshop, so I have the dedication," I tried. In the end, he gave me a cap, told me to think twice and if I still wanted to, I could come back a few days later and start working.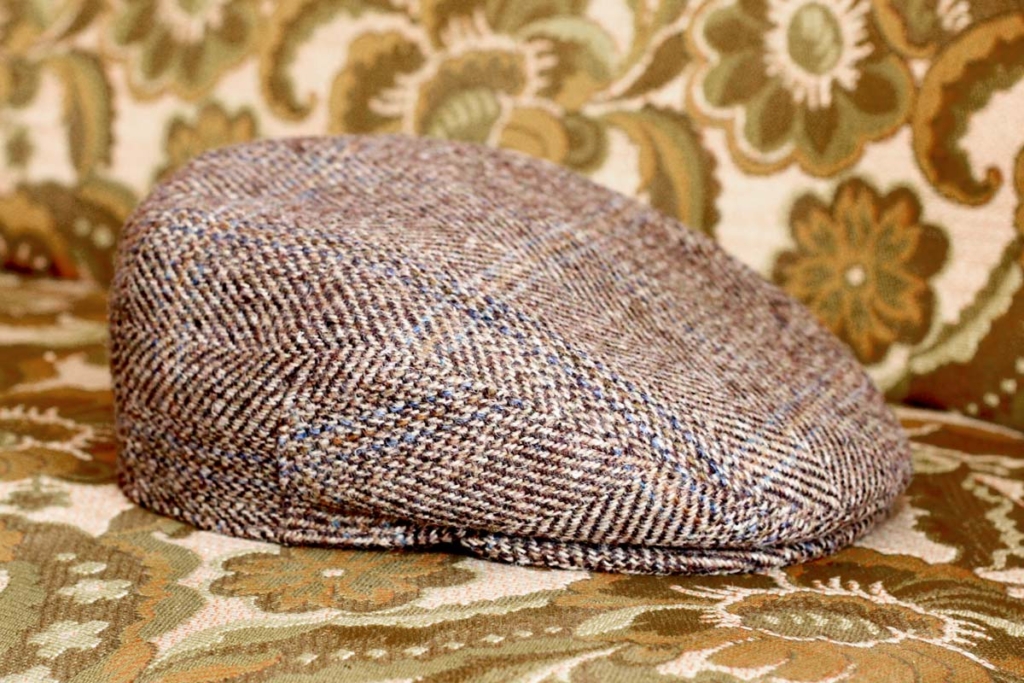 Sixpence and baseball caps are among Wilgart's best-selling models.
Apprenticeship as a capmaker
I was allowed to stay with him and his wife just outside the city, and agreed to work six days a week. I was allowed to stand with the steam iron and sweated while it was high summer and the birds were chirping outside. And I eventually got to sew some caps for myself. And found out that it's really hard. Herr Bullmann kept tearing open my caps and asking me to sew them back together properly. And asked me not to show them to anyone, or tell who had taught me to sew. After 19-20 caps and a month's work, some friends lured me with a trip to a swimming lake further south, and then I said goodbye to Herr Bullmann and left.
When I returned home, I started an education as an accessories designer at KEA, Copenhagen Business Academy. It was mostly about what life is like for a designer who gets his things sewn somewhere far away in Asia, and didn't really fit very well with what I wanted. But during holidays and every time we had to do an individual project or had an internship, I went to work at Bullani, and today I see Herr Bullmann as my master, even though I was not officially apprenticed to him. After two years of training, I set up a company that offered handmade caps, found a windowless basement room in the Northwest neighborhood, and bought my first industrial sewing machine. And every time I had a theoretical school assignment, I used the company as a case. In this way, I also got something out of the branding and marketing part of the education.
TV feature about Wilgart in local newscast (2014)
One day I got through to TV 2 Lorry, who came out into the basement room and made a feature about me, and it sparked demand. But it was still no more than 30-40 customers per half year. Just enough to pay the rent. So I continued to educate myself to get some tools to do business. I took a master's degree in sustainable procurement in the textile industry and studied some business administration. Then I took a master's degree in digital design and communication at the IT University, so I can now handle all online marketing myself.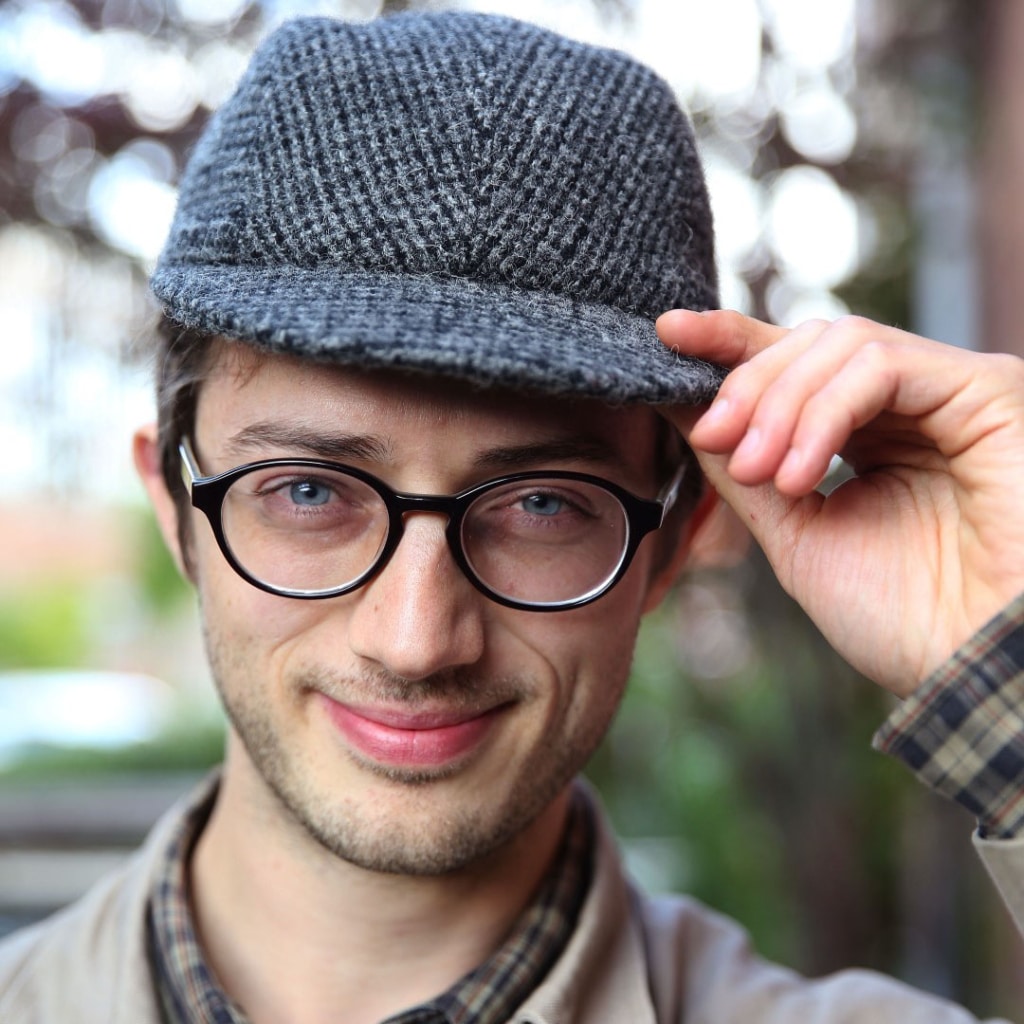 Production takes place in the back room on Jægersborggade. But Silas Skram also has a sewing workshop with slightly larger machines on Bornholm.
Hat shop opens in Nørrebro
It was time to do something serious about the company, and I applied for a room in Jægersborggade, where all commercial leases are owned by the cooperative association, which favors small businesses and does not rent out to, for example, chain stores. On the contrary, they are looking for people with crafts and who have something on their minds as business owners. I opened the store here in 2018, and sat in the back room sewing, but was also in charge of service. Later, Tomas, who was doing an internship with me in connection with his education as a design technologist, became a partner in the company. He is a master of precision, technically minded and good at IT. As a bachelors project, he developed an app that tells small stories about our craftsmanship and products, and which was presented through an exhibition outdoors on Jægersborggade in November 2020 called 'The Cap in the 21st Century'.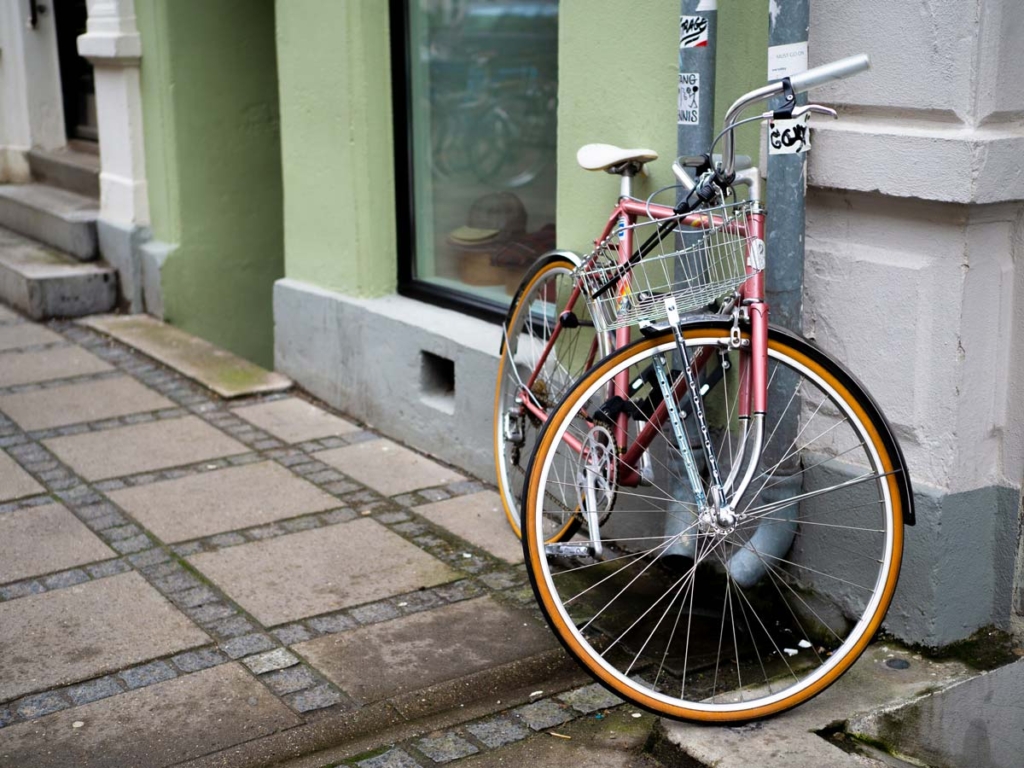 The opposite of a mass-produced cap
It is always important to communicate what we do if we are to survive as a specialist business. Then people need to know what's behind our prices, which are higher than if you buy a mass-produced cap. A baseball cap in wool costs from DKK 600 with us. And in addition to the fact that you get a personal experience by buying it, because you know who made it, you get a cap that fits your head size and where all materials have been thought about – I have taken over Herr Bullmann's supplier directory, and it is worth gold when starting up in a specialized craft.
The pule is sewn from wool from Scotland, the inlay for the brim is punched out in Germany and coated with leather from Italy, the sweatbands also come from Germany, and we take over used sheets from the United Steam Laundries, which we dye and use for lining. We try to be as sustainable as possible and only use materials from Europe. You can buy the caps we have in stock, but you can also choose the materials yourself and have your very own cap made.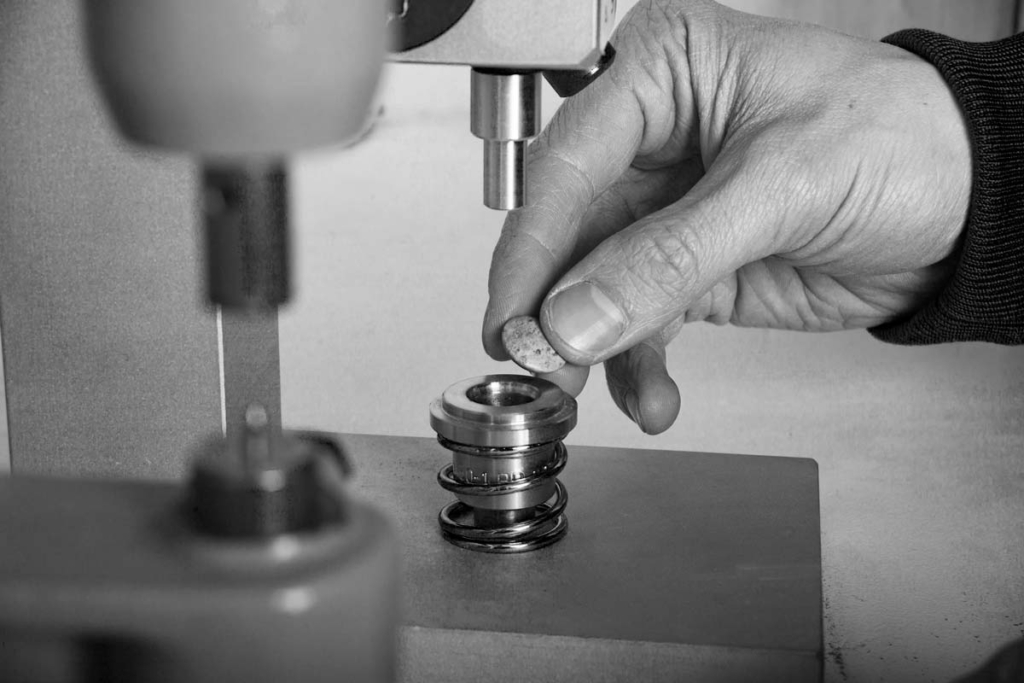 The pule is sewn from wool from Scotland, the brim is stopped out in Germany and covered with leather from Italy.
Compared to others in the clothing industry, we are actually quite local.
Do you make them yourself?!
Most people who come down here are quite puzzled: "Do you make them yourself?" Once upon a time, there was nothing but handmade caps and tiny vendors in Copenhagen. Once upon a time, cap making was something you could get into quite easily because you could start up at home, it didn't require much more than a sewing machine. But today we are probably the only ones in the Nordic countries. And at least the only ones in Denmark."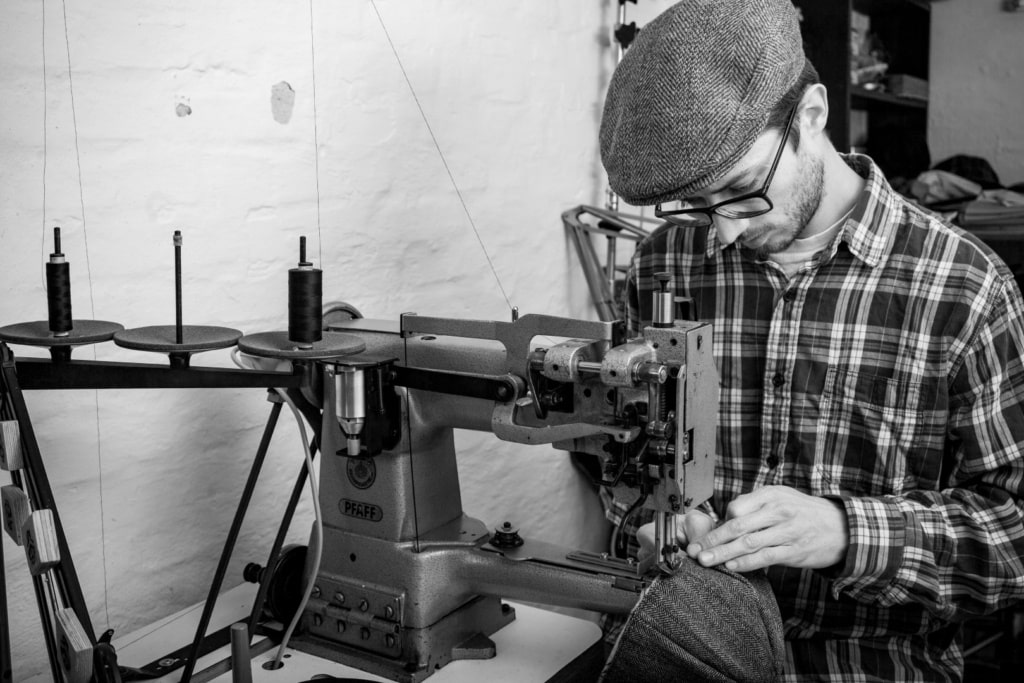 Text: Peter Nicolai Gudme Christensen, Piccolo Media
Photos of:
Martin Sorensen (2014)
Nicolai Egense (2018)
Thomas Mougeolle (2019)
Silas Skram (2016)
Publisher: Out & See, Hatten in Hand, 2021
Date: 1. January 2021